About
BTF Constructions is an award winning Adelaide based building company located in Grange,  South Australia. As one of the state's premier building firms we specialise in custom-designed residential and commercial projects.
We are recognised as leaders in the building and construction industry and are highly regarded as a trusted builder within both our client and supplier networks.
BTF Constructions is a member of both Master Builders Association (MBA) and Housing Industry Association (HIA).
Our extensive list of awards include:
2019 Finalist HIA-Australian Renovation/Addition Project of the Year
2018 Winner HIA-SA Renovation/Addition Project of the Year
2018 Winner HIA-SA Renovation/Addition Project over $550,001
2018 Winner HIA-SA Renovation/Addition Project $200,001 – $350,000
2018 Finalist MBA National Excellence in Building and Construction 
2018 Winner – MBA SA Excellence in Renovation or Addition $200-$400K
2018 Finalist HIA-Australian Renovation/Addition Project of the Year
2017 Winner HIA-SA Renovation/Addition Project of the Year
2017 Winner HIA-SA Renovation/Addition Project over $550,001
2017 Finalist HIA-Australian Business Partner of the Year ~ Elise Heyes
2016 Winner HIA-SA Business Partner of the Year ~ Elise Heyes
2015 Winner HIA-SA Use of Sloping Site
2014 Commendation HIA-SA Custom Built Home ($500-750K)
Values The most important aspect for us, as a building company is ensuring our workmanship exceeds our customer expectations, in all areas. The quality of our building and construction work is flawless, because of the amount of time and energy we personally invest in each building project. Taking a hands-on approach, ensuring there is transparency and open communication, and working closely with our clients, from inception all the way through to completion, ensures we always deliver exactly what you want. This attention to detail and personal service is why our clients select us as their trusted builder.
Full Service Construction Projects
BTF Constructions provides a personalised service on all aspects of the construction process. From initial planning and drafting concepts, engineering and building approvals, through to every aspect of construction work and project management. We also provide interior design assistance and quality packages on a range of product selections and appliances.
Our residential services include the design and construction of new homes, property development, and extensions of varying size and complexity.
Our commercial services include design and construction of new premises, re-modelling of existing offices and shop fitting for all types of business premises.
Professional Building and Innovation
BTF Constructions is fully licensed, insured and equipped to take on residential and commercial projects of varying nature. We implement strict Work Health & Safety procedures and our work is compliant with all national building codes and Australian Standards. As members of the Housing Industry Association (HIA) and Master Builders Association (MBA), we ensure that all of our building practices are current.
BTF Constructions are continually researching new building products and design innovations to bring our customers the best there is to offer in both contemporary and modern construction and design. This means that if you have an idea or vision for your home, but can't see how it can be accomplished, we will have the solution.  If we need to explore other possibilities we know where to look, which means we can create the look and feel you have envisioned.
Meet the BTF Constructions Team
We pride ourselves as a building company that can offer our customers exceptional quality, value and that truely personal service.  You can be assured who you are working with from the start of a project through to completion.
Brett Filsell
Director
Brett is the founder and director of BTF Constructions. Established over ten years ago, Brett developed BTF Constructions into a company that is now very well recognised and respected within the building industry. Brett's commitment and diligence has enabled the company to deliver a broad range of tailored services to respective clients. As a licensed builder, and carpenter by trade, Brett has a thorough understanding of the entire building process. 
Scott Thurston
Site Supervisor
Scott has extensive knowledge and experience in first and second fix carpentry and liaises with clients, trades and suppliers over multiple aspects of all projects.
Elise Heyes
Business Development
Elise is responsible for a range of activities in the company. Primarily, Elise is responsible for developing new and maintaining current business relationships, market development and social media, financial management and office administration. Elise brings extensive experience to the company, gained from other corporate roles.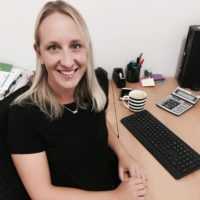 Belinda Fitzgerald
Residential Contracts Admininstrator / Accounts
Belinda manages various administrative aspects of the residential building projects providing support to the Director, Site Supervisors and trades.   She is also responsible for general office duties and accounts payable and receivable.